If you are like me, the amount of music you have on your computer is much greater than the amount of space on your iPod. Heres a tip on how to make managing your iPod selection significantly easier.
First up, you should have an playlist that the iPod is loaded from. My iPod uses "Andrew's iPod Selection". This is a normal static playlist that I manage by hand.
I have created a Smart Playlist that shows me all the tracks that are not on my iPod. I called it my iPod rejects.
Creating the playlist
To create this playlist, go to the File menu and click on New Smart Playlist.
The playlist editor will open. You want to make it match all the songs that are not in the ipod selection, and have a media type of music. Below you can see a screenshot that shows the setup.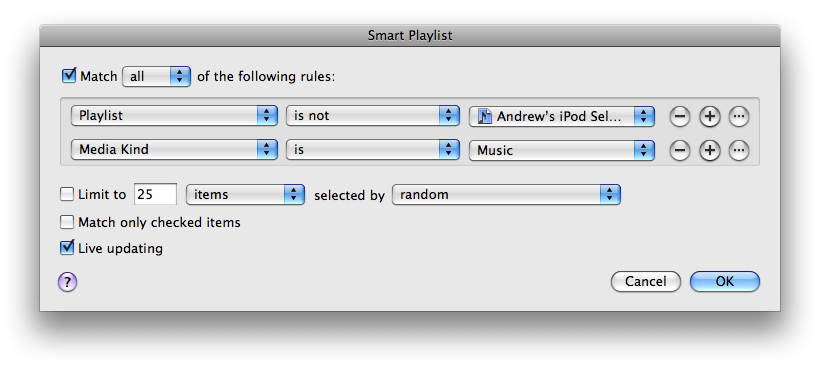 When you first create a smart playlist there is only one rule. You will need to click the + button on the right to add a second. Make sure you have Live updating and match the following rules checked.
Set a Playlist rule to is not your iPod Selection playlist. Set the second -- a Media Kind rule -- to is and Music. This second rule is to make sure podcasts, videos, etc don't get collected up with the music.
Managing the playlists
I have both my iPod Selection and iPod Rejects playlists set up to use the grid view. To change to Grid view, click on the View menu, and select Grid. I also set the View > Grid view option Albums selected, and View > Sort albums > By Artist selected. This allows me to easily skim the albums by artwork.
I populate my iPod Selection playlist by browsing the iPod Rejects playlist instead of the Music library. If you have enabled Live updating on the Smart playlist then tracks should disappear from the Rejects playlist immediately after you add them to the Selection playlist.